Just Announced! The 11th Annual Holidays with the Pack is returning Dec 11 and Dec 12, 2021 at the Fox River Mall. This year we feature 5 Packers Legends available for this autograph event. Bring you own item to be autographed or purchase an item from us. Each player has their own autograph rate and fans may take a selfie with a purchase. Proud sponsor is Wisconsin Sports Heroics
The NFL has one of the most exclusive Hall of Fames in all of sports. It is so difficult to get in that, many times, players and coaches must wait for a senior committee to vote on their rightful place in the Hall of Fame. This is the case of former NFL head coach Dick Vermeil, who was named a senior finalist for the Hall of Fame.
Dick Vermeil's Early Coaching Career
Dick Vermeil began coaching almost immediately after graduating from San Jose State College in 1959. After serving as a high school football coach for a few high schools in the San Jose area, Vermeil received some coaching experience at the College of San Mateo and Napa Junior College. Additionally, Dick Vermeil coached the freshman football team at Stanford University in 1965.
In 1969, Dick Vermeil was hired as one of the first special teams coordinators in the NFL. George Allen, head coach of the Los Angeles Rams, made the hire. Coincidentally, the Philadelphia Eagles, a team that Vermeil would later serve as head coach, hired Jerry Williams as their special teams coordinator. That season, the Rams and Eagles were the first teams to have special teams coordinators. Jerry Williams is already in the NFL Hall of Fame. Dick Vermeil stayed with the Rams as special teams coordinator until 1974, except for 1970 when he was an assistant coach at UCLA.
College Head Coaching Career
Dick Vermeil became the head coach of UCLA in 1974. He held the position for two seasons before leaving for the NFL. While his stay at UCLA was brief, he left a lasting mark on the program. He had a 15-5-3 record in two seasons. In his final season at UCLA, 1975, he led the team to a 9-2-1 record and an upset of number one ranked Ohio State in the Rose Bowl. In 2014, Dick Vermeil was inducted into the Rose Bowl Hall of Fame.
NFL Coaching Career
In 1976, Dick Vermeil took over as head coach of the Philadelphia Eagles. In the season prior to his arrival, the Eagles had gone 4-10. Due to a series of poor trades, Philadelphia was not able to give their new head coach a first round pick until 1979. The process of rebuilding the team was a long one, but Vermeil was the man for the job. After two seasons of sub-.500 football, the Philadelphia Eagles finished 9-7 in 1978. That season, the Eagles made the playoffs for the first time under Dick Vermeil's leadership.
In 1979, Dick Vermeil led the Eagles to an 11-5 record and a berth in the NFC Championship Game. Though they lost a chance to go to the Super Bowl, the team won multiple playoff games for the first time in years. The Eagles and their fans, though, would not have to wait long for a Super Bowl appearance.
The very next season, in 1980, Dick Vermeil's Eagles went 12-4 and appeared in Super Bowl XV. Unfortunately, the Eagles lost to the underdog Oakland Raiders. Philadelphia would not make another Super Bowl appearance until 2004, and would not win a Super Bowl until 2017. Dick Vermeil would not have to wait as long.
Vermeil coached the Philadelphia Eagles until 1982 when he was fired after a 3-6 start to the season. Following this, Dick Vermeil took a 15-year hiatus from coaching. During this time, he worked for CBS and ABC as an analyst. He nearly returned to the Eagles as coach in 1994, but could not come to an agreement with ownership.
In 1997, the St. Louis Rams hired Dick Vermeil to be their head coach. The first two years of his tenure with the Rams were forgettable, much like his first two seasons in Philadelphia. The Rams went 5-11 in his first season and 4-12 in the next. However, following a season-ending injury to Trent Green in the 1998 preseason, future Hall of Fame quarterback Kurt Warner took the reins of the offense. In one of the greatest turnarounds in NFL history, the Rams finished 13-3 and won the Super Bowl.
After leading this "Greatest Show on Turf" to glory, Dick Vermeil once again stepped down from coaching. However, he could not be kept out of the game for long.
In 2001, the Kansas City Chiefs hired Dick Vermeil as their head coach. Though the Chiefs only had a winning record in two of his five seasons, Vermeil was instrumental in retooling the team into one of the most entertaining offenses in the NFL. His Chiefs finished 13-3 in 2003 before being upset in the playoffs. They also finished 10-6 in his final season (2005), but missed the playoffs that year.
The Hall of Fame Process
Mayfield Sports Marketing is no stranger to the process that Coach Dick Vermeil finds himself in right now. A few years ago, we assisted former Green Bay Packers' legend Jerry Kramer through his nomination and eventual enshrinement in the NFL Hall of Fame. Mayfield Sports Marketing represented Mr. Kramer from the start, from nomination, to media row, to that unreal moment when the Hall of Fame came knocking on his door.
Afterwards, we assisted Mr. Kramer with his tour of the Hall of Fame and an 18-month tour of the country that included autograph appearances and speaking engagements. Mayfield Sports Marketing is available to take Super Bowl promotions and media row inquiries, endorsements and speaking engagement inquiries for Coach Vermeil. As a Coach Dick Vermeil booking agent, Mayfield Sports looks forward to working with you on your inquiry. Call 262-366-8188 or email Mark (mark@mayfieldsports.com) at Mayfield Sports Marketing for more information on autograph exclusive opportunities, speaking engagements, socila media activations and autographed items.
Earlier this month, the United States lost one of its finest soldiers and statesmen: Colin Powell. While General Powell's expertise was in politics, his wisdom can be applied to the fields and courts on which sports are played. Powell was once quoted as saying, "The best method of overcoming obstacles is the team method." Indeed, the Green Bay Packers have seen their fair share of obstacles this season. 
Thursday night's matchup against the Arizona Cardinals was no different. In the days leading up to the game, Davante Adams and Allen Lazard were both put on the Reserve/COVID-19 List. Adams tested positive for the virus and Lazard was a close contact. Additionally, Marquez Valdes-Scantling was out with a leg injury. With their top three receivers out, as well as their top two cornerbacks, Pro Bowl left tackle, and Pro Bowl edge rusher, the team needed to come together in order to have a chance. And that they did! Aaron Jones and AJ Dillon, especially, had monstrous games for the Packers as they defeated Arizona 24-21.
The Packers' Biggest Win of the Season
After the Green Bay Packers dropped their first game of the season 38-3 against the New Orleans Saints, there were plenty of questions. Was this team good enough? Were there too many holes? Could they repeat as NFC North Division champs? Over the past seven games, all they have done is win and prove the doubters wrong. 
Entering the Thursday Night matchup, the Arizona Cardinals were 7-0. Green Bay, at 6-1, were considered underdogs for a variety of reasons. They had, after all, just played on Sunday afternoon. Their top three receivers were all out. Their top two corners were out. Very few believed they could win.
However, as Wisconsin Sports Heroics pointed out, the Cardinals' defense, which ranked fourth in the NFL entering the game, had one glaring weakness: run defense. Arizona's run defense entered the game ranked 18th in the NFL in defending the run. If there was ever a game for the backfield of Aaron Jones and AJ Dillon to take over, it was this one.
Aaron Jones' Big Night
Aaron Jones, who many believed would sign elsewhere during this past offseason, built upon his solid season with another fantastic night against the Arizona Cardinals. While multiple players stepped up in big ways, it was Aaron Jones who led all players not named Aaron Rodgers with all-purpose yards. Jones had 15 carries for 59 yards and a touchdown. Additionally, he had seven receptions for 51 yards, which led the team.
While neither stat is eye-popping in and of itself, the 110 total yards were achieved through hard work and athleticism. Viewers of the game were amazed with his play, including Seattle Seahawks quarterback, and former Wisconsin Badger, Russell Wilson.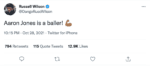 Aaron Jones Climbs Packers All-Time Rushing List
One of the things that has flown under the radar this season has been how quickly Aaron Jones is climbing up the Green Bay Packers all-time rushing list. While his 59 yards on Thursday were by no means the most he had in a game, it was enough to move him into eighth place in franchise history. With 3,827 yards, Jones just squeaked by Packers' legend Gerry Ellis, who had 3,826 rushing yards with the Packers. Next up on the list is Clarke Hinkle, who had 3,860 yards with Green Bay.
Within reach, also, is Dorsey Levens, who has partnered with Mayfield Sports Marketing in the past. Levens, who is currently sixth in Packers' history in terms of rushing yards, finished his career in the Green and Gold with 3,937 yards. If Aaron Jones keeps up his current rushing pace this season, he could also pass Ryan Grant (4,193) and Tony Canadeo (4,197) before the season ends. This would place him fourth in franchise history with three years remaining on his contract. Ahman Green is the team's all-time leading rusher with 8,322 yards. Green also has partnered with us at Mayfield Sports Marketing in the past.
AJ Dillon Led the Packers in Rushing
Aaron Jones surely had a fantastic night for the Green Bay Packers against the Arizona Cardinals. However, it was backup running back AJ Dillon who led the team in rushing. Dillon had 16 carries for 78 yards, his most in a game since his breakout game against the Tennessee Titans last season. Dillon, as always, complemented Aaron Jones perfectly. His bruising style of running made the Cardinals defense adjust away from defending the slashing, cutting style of Jones. Additionally, Dillon proved to be vital in pass protection, keeping blitzers away from Aaron Rodgers.
Perhaps, though, one of the ways in which AJ Dillon affected the game the most was on special teams. It is no secret that the Green Bay Packers struggle on kick and punt return coverage. With so many players injured, some important role players on offense and defense have had to step in on these coverages. 
Arizona has one of the best return games in the NFL, and this was certainly a concern entering the game. Thanks to AJ Dillon, though, the Cardinals did not have any big returns. Dillon made a single solo tackle on a punt return that kept Arizona from achieving great field position to start their drive.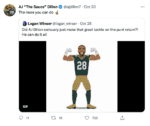 Football is a team game. When the Green Bay Packers last won the Super Bowl, they did so with over 20 players on injured reserve. This year's squad certainly reminds many of that championship team, with many players stepping in and performing better than expected. In games such as this, against the NFC's best, it is important for every guy to pick up his teammates. On this night, Aaron Jones and AJ Dillon did just that, making up for a depleted passing game with their own brand of heroics.
Mayfield Sports Marketing is a full service sports booking agency and speakers bureau. MSM can contract athletes for: events, speaking engagements, autograph sessions and social media campaigns. 
The Marcus Performing Arts Center (MPAC) is excited to announce an exclusive screening of the feature-length documentary film, You Can If You Will: The Jerry Kramer Story. The screening event will take place in Wilson Theater at Vogel Hall on Saturday, November 13, 2021 at 3pm and 8pm.
About Jerry Kramer
Jerry Kramer (born January 23, 1936, in Jordan, Montana) is a former professional football player, author and sports commentator, best remembered for his 11-year NFL career with the Green Bay Packers as an offensive lineman. As a 6'3", 250 pound right guard, Kramer was an integral part of the famous "Packer Sweep", Vince Lombardi's signature play. Kramer was an All-Pro five times, and a member of the NFL's 50th anniversary team in 1969, but surprisingly, it took 50 years to be inducted into the Pro Football Hall of Fame!
A Life Beyond Football
Jerry Kramer's life is not only about winning football championships with Vince Lombardi's Green Bay Packers, it's about helping people around him reach their full potential. This film will take the viewer on a journey of Jerry's life, from a small-town family with modest means to the mountaintop of NFL glory as part of Superbowl I Champions Green Bay Packers. This special event features a post-show Q&A with the film's director, Glenn Aveni, and the legend Jerry Kramer himself!
Get Your Tickets Today
A limited number of VIP ticket packages are available that include prime seating, a copy of the film on Blu-ray as well as a meet and greet and photo opportunity with Jerry Kramer. Tickets can be purchased in person at the Marcus Center Box Office at 929 North Water Street, Downtown Milwaukee, by phone at 414-273-7206, or online. Groups of 10 or more should call Groups Sales at 414-273-7121 x210. About Marcus Performing Arts Center
Established in 1969, the Marcus Performing Arts Center (MPAC) is the premier performing arts community gathering space in Southeastern Wisconsin, bringing high-quality arts and cultural programming to the region. As a mission-based 501(c)3 non-profit organization, MPAC strives to act as a bridge between cultures and an energizing force for collaboration and advocacy in the community.
The touring Broadway series, sponsored by Johnson Financial Group, is recognized as bringing the best of Broadway entertainment to Milwaukee since 1996, and provides opportunities to educate, entertain, and engage audiences. As a presenter, MPAC offers its own diverse arts and cultural programming and outreach, such as MPAC Presents, Rainbow Summer Reimagined, KidZ Days, ArtsConnect, and additional performances from internationally-renowned performing artists.
The Marcus Performing Arts Center is also home to a variety of resident arts partners, including First Stage, Milwaukee Ballet, Florentine Opera Company, Black Arts MKE, Milwaukee Youth Symphony Orchestra, and more. MPAC is proud to be a dedicated War Memorial facility, honoring those who bravely served our country. For more information, visit www.marcuscenter.org