Book Professional Athletes for Endorsements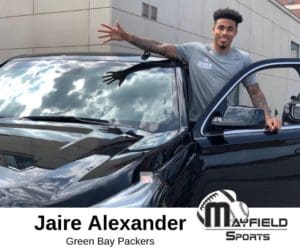 Mayfield Sports Marketing Agency has been matching athletes endorsing the best brands for almost 10 years. With access to athletes such as Brett Favre and Davante Adams, our agents can connect your company with
 the perfect athlete to endorse your brand, product, company, or service.
Why Professional Athlete Endorsements?
Professional athletes are excellent endorsers for your brand because they are easily recognized by face and name around the world. Aaron Rodgers, as the face of State Farm and Shaq with The General, both stand out when you think of car insurance, which is precisely the intent of professional athlete endorsements.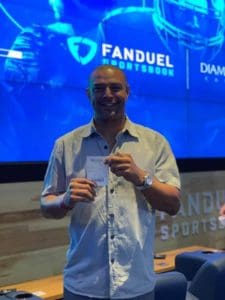 Jaire Alexander is a new face with Oakley Sunglasses, creating a connection to the brand for the sports audience. Endorsements can be seen in print ads, on television, and on social media, as well as heard on the radio. An organization or company's growth depends on successful media brand campaigns and advertising. A famous professional athlete on your team is the perfect way to reach your goals.
Why Use Mayfield Sports Marketing Agency for Your Professional Athlete Endorsements?
Mayfield Sports Marketing Agency has worked with companies and organizations for almost 10 years ensuring that they match with the right professional athlete for their endorsements. We have direct contact with professional athletes, both current and former, as well as coaches, sports agencies, and public relations firms to guarantee we get you the best talent fees. Mayfield Sports Marketing Agency offers experienced agents who are ready and willing to work with your organization or company to find the right professional athlete to endorse your brand. For example, Jaire Alexander is a new face for Oakley Sunglasses. Have you seen Packer's Jaire Alexander wearing Oakley Sunglasses?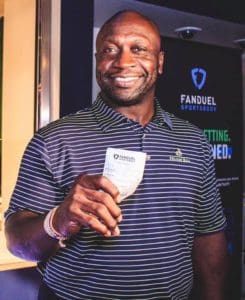 Contact Us Today
Contact Mayfield Sports Marketing Agency today to start your organization, company, product, service, or brand on the road to instant recognition thanks to the endorsement of one of our professional athletes. 
Check out the athletes Mayfield Sports Marketing Agency has available. If you don't see a specific athlete you may have interest in endorsing your product, give the MSM Team a call to discuss at 262.366.8188. 
Let's get the process started. Contact us today and you'll be on your way to a professional athlete endorsement in no time!