Mayfield Sports, the Leader in Sports Marketing Companies
"You can't win if you don't play" is what my Dad always said.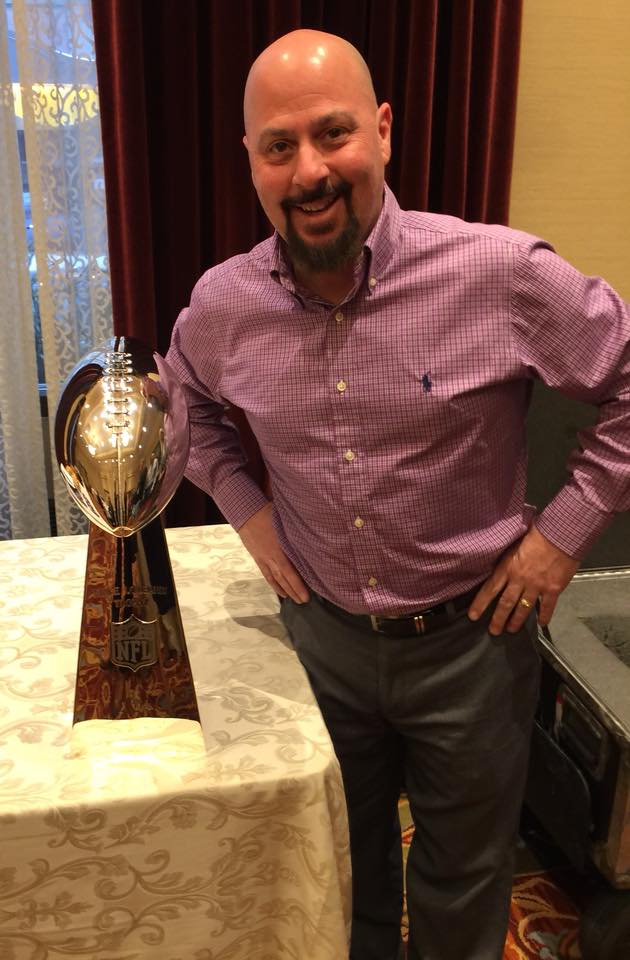 Growing up in Indiana, I was a Chicago Bears fan. In 2004, while working at a Milwaukee area resort in Sales & Marketing, I received a call that a Super Bowl Champion Green Bay Packer was going to stay at our resort. As a huge sports fan, I said I would like to have breakfast with the player. Little did I know that would change my life forever.  Over the course of 5 days, I had breakfast with Packers Legend Gilbert "The Gravedigger" Brown. We found that we had a lot in common with the similar mentality of "you have to earn it." With "Jerry Maguire" in the back of my mind, I asked Gilbert at the 5th day of breakfast if he needed any business assistance. He immediately said "Yeah, I need a website." The following Monday I arrived at work to find an envelope in my mailbox reading "Mayfield: Website" with a $1000 inside. We built the website and started getting appearance & speaking engagement inquiries. At that time, I started M3 Marketing LLC. (My initials are MMM)  Over the course of the next 8 years, we worked together on numerous events on the weekends and in the evening after my day job. Gilbert introduced me to several teammates and we began booking appearances for them as well. Players such as: LeRoy Butler, William Henderson and Santana Dotson to name just a few.
M3 Marketing Changes to Mayfield Sports Marketing
In Nov 2011, my Dad and I had a private conversation. I told him that 2012 was going to be my year. I was going to quit my job to make sports marketing my full time business. I will never forget what my Dad said "You will do awesome and I love you kid." Two weeks later my Dad, my idol, passed away. In 2012 with a hand full of players on my speed dial and full support of my awesome wife, I quit my job to pursue sports marketing. At that time, my Grandfather gave me some pretty good advice. He said, "If you are proud of something, you put your name on it." So, I changed M3 Marketing to Mayfield Sports Marketing.
Since 2012 to current day, we continue to build our portfolio, one athlete earned at a time, from a variety of teams and sports. Recent contracts such as: non profit events, player endorsement deals, autograph sessions, golf outings, football camps and private meet and greet events. We have worked with numerous current athletes, veteran athletes, HOF athletes from football, basketball, baseball as well as Olympians. We get to travel, participate in unique events, meet some pretty cool people while staying true to the job at hand. We always have the best interests of the customer at the forefront of everything we do.
Your Source for Celebrity Sports Speakers
Mayfield Sports Marketing has been a leading sports marketing agency and speaker bureau that has helped many Wisconsin and Midwest companies, large and small, with booking athlete appearances and sports speakers for corporate events. Specializing in sports figures from the Green Bay Packers, Milwaukee Bucks, Milwaukee Brewers, Wisconsin Badgers, Chicago Bears and Olympians, our booking agents have negotiated deals for current and retired sports figures. Recent bookings for speaking engagements, VIP Meet & Greets, autograph signings, product endorsement deals, media opportunities, celebrity golf tournaments and many more corporate hospitality events.
From the initial inquiry to post evaluation, our team and our athlete partners take great pride in the success of each event. Our team at Mayfield Sports Marketing has established a reputation for business problem-solving, creative solutions and excellent customer service with companies like CitGo, MDA and ESPN.
Mayfield Sports Marketing's history of success is because of one key truth— if we tell you we will do something, we do it. We can do the same for you.