January 15, 1967, was the date. Los Angeles Memorial Coliseum was the place. For the 61, 946 spectators that day, as well as a national audience on two TV networks (NBC and CBS both simulcast the game), sports history was made in the inaugural AFL-NFL World Championship Game, now known as Super Bowl I.

This week, as part of the NFL 100 season-long celebration, the Green Bay Packers and the Kansas City Chiefs will relive the glory of Super Bowl I by playing on Sunday Night Football. With star quarterback Patrick Mahomes dealing with a knee injury, the Green & Gold look to keep their three-game win streak alive.
A Special Game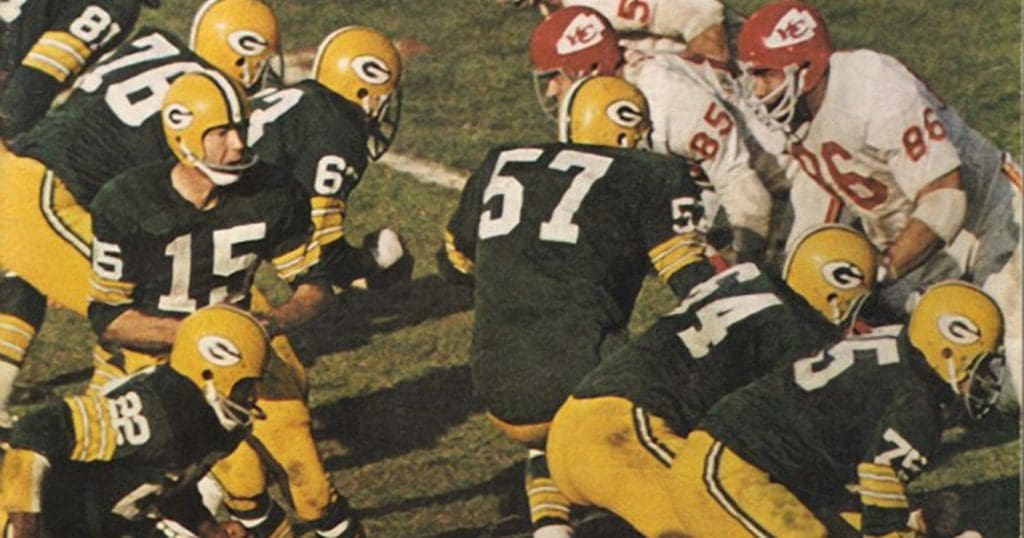 As the first championship game between the long-established NFL and the upstart AFL, many spectators were interested in who would win, the Packers led by Bart Starr or the Chiefs with Len Dawson at quarterback.

At halftime, Green Bay only held a 14-10 lead. It appeared the Chiefs, who had beaten the Buffalo Bills 31-7 in the AFL Championships game, would be tough competition for the Packers. Then, at the beginning of the third quarter, Packers safety Willie Wood intercepted a key pass, delivered a 50-yard return and the Packers went on to score 21 unanswered points. The final score of Super Bowl I: 35-10 in favor of the Packers.

Eleven players from that first championship Packers team, in addition to Head Coach Vince Lombardi, went on to be inducted into the Pro Football Hall of Fame. Green Bay would go on to win three more Super Bowl championships, including Super Bowl II the following year.
The Mayfield Sports Marketing Super Bowl I Connection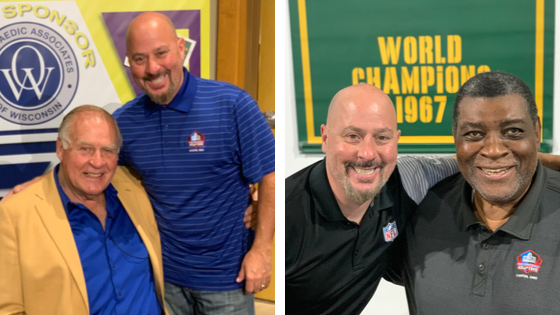 Mayfield Sports Marketing is incredibly proud to partner with several of the starters from that historic game. All-Pro RG Jerry Kramer was an integral part of the Packers offensive line that season and WR Boyd Dowler was one of Bart Starr's favorite targets. Dave Robinson was a key player in the Packers linebacking corps while punter Donny Anderson helped introduce the NFL to the concept of "hang-time" in punting. While a neck injury sidelined Paul Hornung for Super Bowl I, his impact on Packer history is legendary and he is one of only nine players to win both the Heisman Trophy and the NFL's MVP Award.

Kramer and Robinson would eventually be inducted into the NFL Hall of Fame, and Dowler will hopefully be a member of the 2020 Canton class.

If you're a Packers fan, there's no greater thrill than to be in the presence of Packer greatness. At Mayfield Sports Marketing, we count ourselves some of the luckiest people on Earth to work with Kramer, Dowler, and Robinson on various events, including autograph signings, opening day ceremonies, and speaking engagements.

We wish the Green Bay Packers the best as they take on the Kansas City Chiefs this Sunday night, and we thank our HOF Packers players for bringing that first trophy home to Wisconsin.

If you're interested in having a HOF Green Bay Packer at your next event, contact Mayfield Sports Marketing today via our online contact form. With multiple Super Bowl rings between them, these guys know how to win and help your business succeed. Come join the winning team today!

The 2019 NFL season marks the 100th anniversary of the league with the NFL designating an "NFL 100 Game of the Week" each week to symbolize the league's history and its most memorable moments.

This commemorative series of games began with the Packers vs. the Bears in Week 1, showcasing the oldest rivalry in professional football. Now, the NFL 100 comes to Lambeau Field this week in a rematch of Super Bowl II, the Oakland Raiders vs. the Green Bay Packers.
1967 Was An Amazing Season For the Packers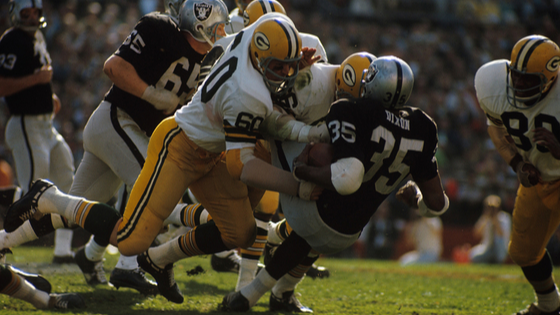 The 1967 season was an amazing season for the Packers, who were coming off a win in Super Bowl I. Behind legendary Hall of Fame coach Vince Lombardi, and the quarterbacking excellence of Hall of Famer Bart Starr, the Packers had their sights set on defending the inaugural Super Bowl title.

It was an uphill climb just to reach the Super Bowl for a second time. Star players Paul Hornung and Jim Taylor were gone. The players signed to replace them were injured early in the season. Starr missed four games because of injury and had almost twice as many interceptions as touchdowns.

It was the wide receivers that carried the offense that season. Carroll Dale averaged 21.1 yards per catch and Boyd Dowler scored 4 touchdowns with 846 receiving yards. Interesting fact: Boyd Dowler is one of six wide receivers on the NFL 50th Anniversary team, but is the only one of the six yet to be named to the Hall of Fame. Packers fans are hopeful that 2020 will be the year that injustice is corrected.

The Packers had a 9-4-1 record heading into the playoffs, but had given up 78 points in their last three games. They dug deep in the playoffs, first beating the Los Angeles Rams 28-7, then coming from behind to beat the Dallas Cowboys 21-7 in the infamous Ice Bowl game.

In Super Bowl II, the Packers were dominant, beating the Oakland Raiders 33-14. Bart Starr became the first player to be named MVP in back to back Super Bowls. In addition to Vince Lombardi, nine Packer players went on to be enshrined in the Pro Football Hall of Fame.
Mayfield Sports Marketing
Mayfield Sports Marketing is proud to work with both current and former Green Bay Packers players. We are especially proud of our connection with Super Bowl I and II via HOF players Dave Robinson and Jerry Kramer, as well as future HOFer Boyd Dowler. All of them are beloved figures in Lambeau lore and always draw a large, enthusiastic crowd at every event they are a part of.

If you're interested in working with either Dave Robinson, Jerry Kramer, or Boyd Dowler at your next autograph session, business event, or speaking engagement, contact Mayfield Sports Marketing today using our convenient online contact form. You're sure to have a great turnout when a Packers legend shows up!

On behalf of everyone at Mayfield Sports Marketing, good luck to the Packers this weekend against the Raiders in this special NFL 100 commemorative game.

The 2019-2020 NBA season is right around the corner. The first game of this new season tips off at 8 PM on October 22nd and features the up and coming New Orleans Pelicans taking on the defending champion Toronto Raptors.

Here in Wisconsin, people are getting excited for another year of Milwaukee Bucks basketball. After all, who wouldn't enjoy watching the reigning NBA MVP, Giannis Antetokounmpo, the "Greek Freak", as he pushes the Bucks towards a spot in the Finals?
The Bucks Season in Review
If you're a professional basketball fan, even if you're not a fan of the Bucks, you have to give respect to the tremendous season they had in 2018-2019. The Bucks finished with a 60-22 record, by far the best record since the early 80s for this franchise.

It was the best record in the entire NBA and only the second time in franchise history they accomplished that feat. The Bucks had not had home-court advantage in a playoff series since 2001 and took advantage, beating Detroit in their first-round series. After beating the Boston Celtics to grab a spot in the Eastern Conference finals, they fell to Toronto, who would go on to win the title.

A big part of the Bucks' success last season was the play of Giannis Antetokounmpo, nicknamed "The Greek Freak". He joins the legendary Kareem Abdul-Jabbar as the only other Milwaukee player to be named the NBA MVP. Antetokounmpo is the third youngest MVP in league history, and only the fifth player from outside the USA to win the award.

With career highs in rebounds (12.5) and assists (5.9) per game, as well as a career-high field goal percentage (.578) and points per game mark(27.7), it truly was a breakout year for this 24-year-old.
Mayfield Sports Marketing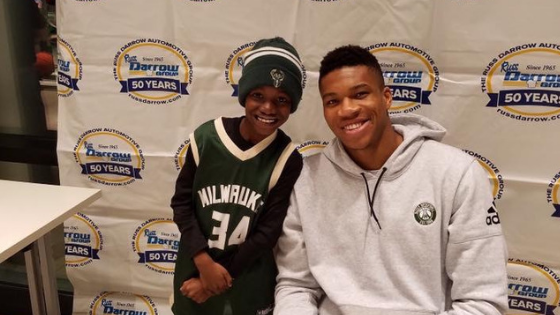 Mayfield Sports Marketing is excited about this upcoming NBA season and is looking forward to the opening tip for the Bucks as they start the season in Houston on October 24. We are proud to work with Giannis Antetokounmpo and wish him and all the Bucks a season to be proud of.

If you're interested in working with star forward Giannis Antetokounmpo at your next corporate event or fundraising opportunity, contact Mayfield Sports Marketing today using our online contact form. You can't ask for more star power than an MVP and Antetokounmpo Is sure to bring heavy interest and a high ROI to your next event.

Come join the winning Mayfield Sports Marketing team and see what a superstar NBA player like Giannis Antetokounmpo can do to help your business thrive! Good luck to the Milwaukee Bucks as they start their quest to be named NBA champs in 2020!

Brett Favre endorses Wrangler, or Giannis Antetokounmpo supports a local business, sales turn to gold and that brand gets an immediate positive boost. How do you take that stellar outcome to the world of non-profit event or a charity event? There is an art form to getting the most mileage from a celebrity athlete when it comes to nonprofit fundraising. A quick photo opportunity and some good press from an event are not enough.
The Athlete Who Cares About Your Cause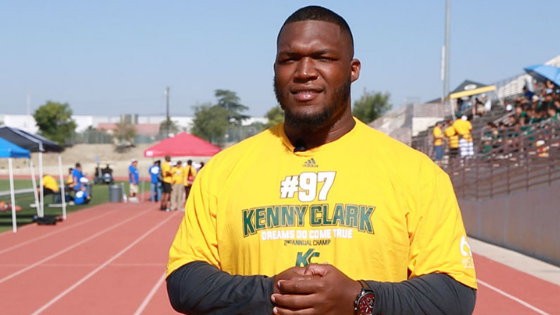 Because a successful athlete-nonprofit partnership requires time and a strong commitment, it's important to find an athlete who cares about your cause. It's always amazing to see an athlete support a cause because they've been personally affected by it. 
Green Bay Packers defensive lineman Kenny Clark has been open about his experience growing up while his father served time. It's because of his personal connection that he does work with Angel Tree, a nonprofit helping children with incarcerated parents.
If the athlete has a personal connection, they are more likely to give 100% to make sure that your fundraising efforts are a success.
Celebrity Commitment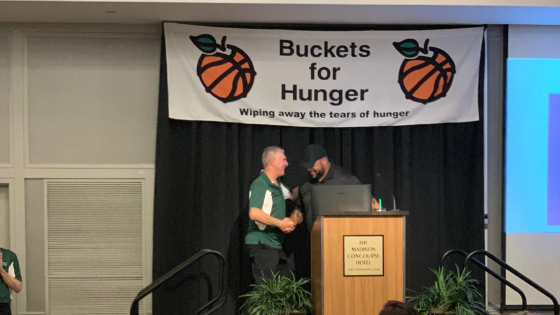 As a nonprofit, you will get more fundraising bang for your buck if you are working with a celebrity who can make a serious commitment to your organization. Sure, a one-time event or golf outing is great, but what you are really after is the athlete who is more concerned about the cause and less about their own personal publicity.
Recently, Super Bowl champion Gilbert Brown attended the 24th annual Buckets for Hunger event in Madison Wisconsin. Gilbert greeted fans, took several photos and was even the live auctioneer on a few very rare autographed Packer memorabilia items.
Raising funds for an incredible organization that helps the local food pantry is a great way to spend a Friday night

Gilbert Brown on attending Buckets for Hunger in Madison, WI
Let Mayfield Help You Find A Good Fit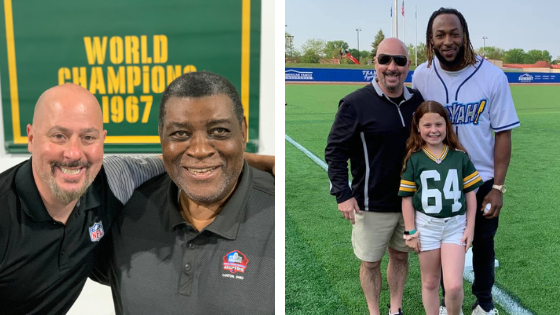 So much of the athlete-nonprofit partnership is finding just the right celebrity to work with. You need an athlete who has an organic connection to your brand. The athlete's image and brand have to work in conjunction with yours. It's not just about the star factor.
A recognizable name, whether it's a current player like Packers Aaron Jones or Hall of Famer like Packers Dave Robinson, can make a big difference for your nonprofit. But, it has to be a good fit, one where both the athlete and organization have shared values and images.
Mayfield Sports Marketing is the best in the business at negotiating athlete appearance fees for your nonprofit or foundation. We have a wide selection of athletes we work with across multiple leagues (NFL, MLB, NBA) and can help you find the perfect fit for a large ROI. Contact us today and come join our winning team!
Whether you're looking for a current star like Davante Adams of the Green Bay Packers or a Hall of Famer with endorsement experience like Brett Favre, finding the right athlete for your product endorsement can do a lot, such as:
help your business reach a larger audience
increase sales
promote your brand identity
increase your brand credibility and trust amongst consumers.
Of course, there are athletes that command top dollar when it comes to an endorsement deal. With the help of an experienced sports marketing agency, however, you can find an athlete to fit any budget.
What Do You Have To Offer?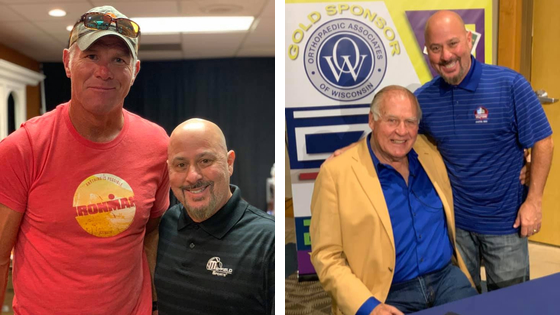 If you're trying to find an athlete to endorse your product, you need to offer something they might want. Have a great product? Celebrity athletes are just like the rest of us -- they like free stuff, too. Sharing some swag with an athlete is a way of letting them try your product, which could lead to an endorsement. At the least, you may get a social media shoutout (think of it as an unofficial endorsement!)

Many athletes have favorite causes and will usually go out of their way to make appearances or fundraise for them. By aligning your company with a cause or two, you are not only enhancing the positive image of your brand, but you are also creating common ground for an athlete to endorse your product or service. For example, did you know that every athlete that signs an endorsement deal with New Balance gets money and merchandise for use with their charitable endeavors?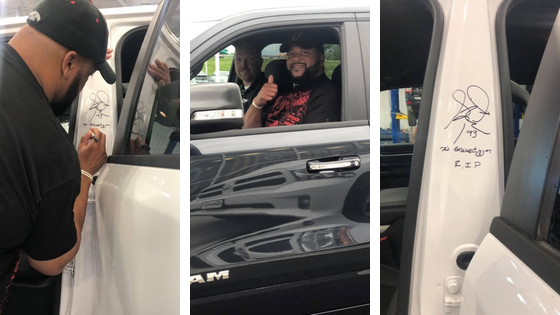 Also, consider the wisdom behind "minor stars are major draws". Many businesses want to have an endorsement, but don't have the budget for a major star. That's OK. Many athletes are looking to enhance their brand as well, so consider a beloved Hall of Famer such as Gilbert Brown or an up and comer such as Packers safety Darnell Savage.
Mayfield Sports Marketing Can Help
When it comes to finding the right athlete for your product endorsement, the best thing you can do is talk to a sports marketing expert who can help you clearly define your business goals. You're looking for a celebrity athlete that not only appreciates your product but also ties in with your brand identity and your overall message.

Mayfield Sports Marketing can help. With our extensive network of industry contacts and the relationships we've formed with numerous athletes across different sports leagues, we have something to offer everyone. Use our online contact form to let us know what you're in the market for and Mark Mayfield will work his magic for your business.

Don't let opportunity pass you by! Contact Mayfield Sports Marketing today and let us help you find just the right celebrity athlete for your next product endorsement!

Every year, Kenny Clark just keeps getting better and better. In his fourth NFL season, as a 1st round pick out of UCLA, Clark has his sights set on a playoff berth for the Packers and a Pro Bowl selection outright for himself.
Kenny Clark Impressing Rodgers and Coaches
Currently, after four games, Clark is tied for third in tackles (17), third in sacks (1.5) with 7 sack yards, and tied for first with a forced fumble. After last season when he was named a Pro Bowl alternate, it is clear that Clark is improving his game and no less than his HOF quarterback is paying attention.

"I think one guy who is maybe the quietest, underrated star in this league is Kenny Clark. He does it all the time, but he doesn't do it with the boisterous, crazy loud celebrations or animated press conferences. He just goes about it and does his business."




Green Bay Packer QB Aaron Rodgers on Clark after win against Minnesota Vikings
Mike Pettine, the defensive coordinator for Green Bay, has given his defensive players more freedom to react to situations on the field as they develop, and Clark's evolution in knowing when to take chances and when to play more conservatively is a major reason why the Packers are eyeing a contract extension past 2020.
Connecting With Fans on the Kenny Clark Show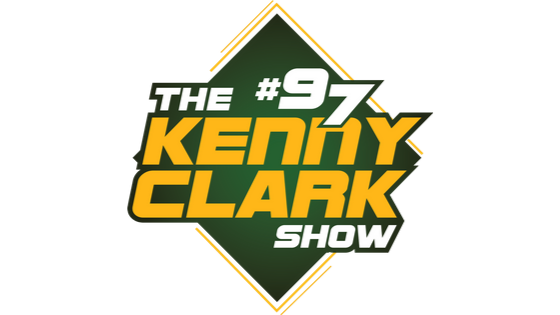 If you're a big fan of Kenny Clark, Mayfield Sports and the Green Bay Distillery would love to have you come out for "The Kenny Clark Show", a live radio show broadcast from the Distillery on Wednesdays from 6-7 PM. Doors open at 4:30 and weekly prizes are handed out. For those who can't make it in person, you can catch the show on Sports Radio 107.5 and 1400 The Fan.
Mayfield Sports Marketing
Mayfield Sports Marketing is proud to work with Kenny Clark and other current and former Green Bay Packers. Kenny is available for corporate events, grand openings, as well as fundraisers and golf tournaments. His winning personality and commitment to the community are what make him so popular at every event we do together.

If you're interested in having a star athlete at your next event, contact Mayfield Sports Marketing using our online contact form. Let us work with you to find just the right athlete for your business or nonprofit.

For sports fans, there is no greater thrill than being able to meet a celebrity athlete in person. Even better is getting an autograph and taking home proof that you have spent time in the presence of a sports hero. When your business associates with current athletes like Alvin Kamara and Melvin Gordon or a former superstar like Brett Favre, customers take notice!

If you are a business or nonprofit, autograph sessions can take your event to the next level. They are guaranteed to increase turnout and attention to your business. For foundations and nonprofits, having an auction of autographed items is a surefire way to bump up interest and raise considerable funds.
Some Tips For Successful Autograph Sessions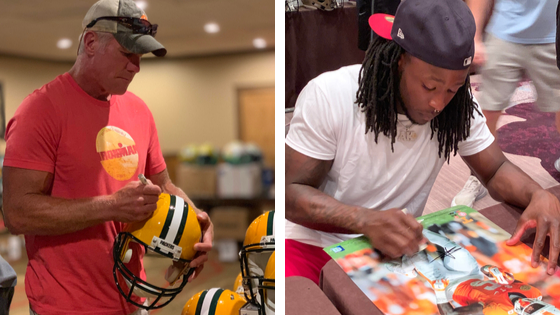 The most important decision you will make is to decide what athlete you want to have. You don't have to try and book an athlete yourself. An established sports marketing agency will have connections to connect and hopefully book the athlete you want. They can also discuss with you what you hope to accomplish at your event and provide choices you might not have thought of.

For a foundation or nonprofit, keep in mind that athletes often have a favorite charity or cause they want to promote. You will have more success in booking an athlete if your organization promotes a cause that is near and dear to the athlete's heart.

While everyone seems to want a current star athlete, there are other options. Often, former athletes, especially Hall of Famers like Jerry Kramer or Paul Molitor, are big draws. Another general rule of thumb is "even minor stars are major draws". Minor league players, team broadcasters, coaches, and athletes who were stars in college can all increase turnout and provide significant positive exposure for your business. Keep your options open!

Have a wide variety of things available to be signed. Also, make sure to get some extra signatures for people to purchase later if they can't make it to the event.

Finally, promote, promote, promote! It's not just advertising the event beforehand. It's also vital to promote afterward through social media postings and other advertisements. A celebrity athlete provides star power and credibility to your business. Take advantage of that and create interest in when your next event will be taking place!
Mayfield Sports Marketing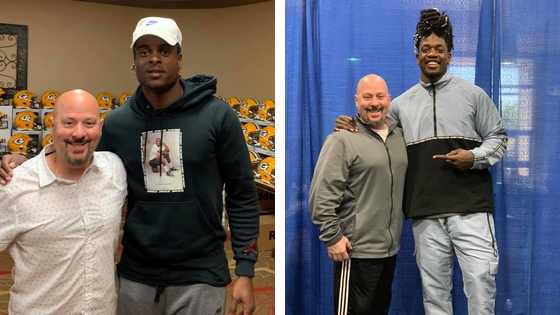 There is so much upside to an autograph session for your business. A well-run autograph session can really take your event to the next level. If you're interested in setting one up, contact Mayfield Sports Marketing using our convenient online contact form. We have extensive connections with current and former athletes in many sports and would love to see your business or nonprofit gain exposure and brand awareness.

Be a part of a winning team! Contact Mayfield Sports Marketing today.

With Drew Brees unavailable for the time being, the New Orleans Saints know they need playmakers to step up and keep the team running on all cylinders. One of the players who has answered the call is All-Pro running back Alvin Kamara.
Alvin Kamara Shines
In the Saints four games so far, Kamara has amassed 280 rushing yards with one touchdown. He also has 20 receptions for a total of 199 receiving yards and one touchdown. Kamara is living up to the hype and is once again a dependable, solid piece of this outstanding offense.

With the NFL celebrating the 100th anniversary season of the league's founding, one of the highlights so far has been the league commercial that aired during last year's Super Bowl. It was fitting that Alvin Kamara and Drew Brees proudly represented Who Dat Nation in this star-studded endeavor.
Mayfield Sports Marketing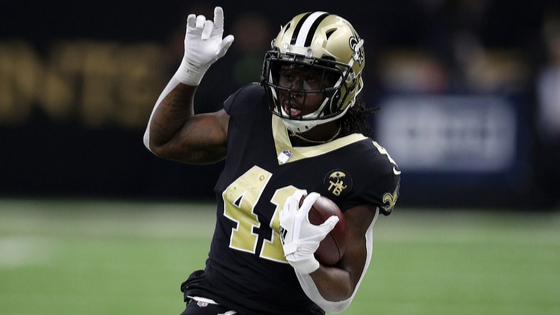 At Mayfield Sports, we are proud to work with Alvin Kamara on various projects. We believe strongly in finding the athlete that best fits for any of our projects. Whereas other marketing agencies might pair you up with the athlete that happens to be available, our philosophy is to find the athlete that best matches the goals for your business or non-profit.

Working with an athlete such as Alvin Kamara, an athlete that has played at a high level ever since he entered the league, can bring a lot of benefits to your next endeavor. Whether it's a corporate event or an endorsement, Kamara, a two-time Pro Bowler and NFL Rookie of the Year, can ensure a high amount of interest as well as an impressive ROI for your company.

If you have an endorsement opportunity or corporate event that you feel would benefit from a star athlete such as Alvin Kamara, contact Mayfield Sports Marketing today. If it's a good fit, we can help make it happen.
Mayfield Sports Marketing is one of the leaders in sports marketing nationwide. With an extensive network of contacts, MSM President, Mark Mayfield, takes pride in making sure you reach your event goals. Whether you are interested in a speaking engagement, corporate event, non-profit fundraiser or a significant endorsement opportunity, Mayfield Sports Marketing can help. Simply use our online contact form and come join the Mayfield team!

As the 3-1 Green Bay Packers prepare for this weekend's key matchup against the Dallas Cowboys, one of the key questions on everyone's mind is the playing status of two-time Pro Bowler and star wide receiver Davante Adams.
Adams Rehabbing Injury 
In last Thursday's game, Adams posted a career-high 180 receiving yards but suffered a turf toe injury that sidelined him for the fourth quarter. According to reports from ESPN, he is unlikely to play this Sunday.
However, Ian Rapoport from NFL Network has reported that Adams has undergone an MRI scan and the injury is "not believed to be serious". With nine days between games, hope springs eternal among Packer Nation that Adams might see some playing time.
"...he's a freak athlete. He's a hard worker and just his releases in general. He can probably do the same thing with one leg so don't be surprised if you see him out there Sunday."

Packer Allen Lazard on Adam's recovery from a turf toe injury
Mayfield Sports Marketing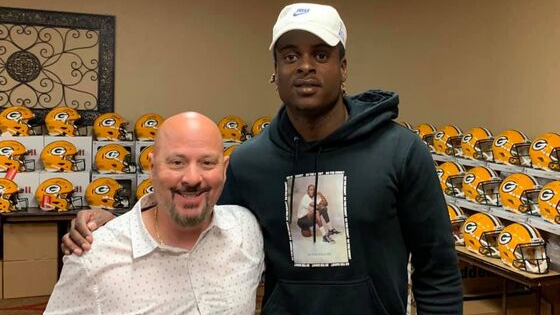 Mayfield Sports Marketing is proud to partner with Davante Adams and we wish him a speedy recovery. He's a big part of the Packer's success this season and we count ourselves fortunate to work with an athlete of his caliber to bring high profile to success to businesses and nonprofits.
If you're interested in partnering with a current or former Green Bay Packer for an upcoming corporate event, grand opening, non-profit fundraiser, or speaking engagement, Mayfield Sports Marketing is the sports marketing firm you should have on speed dial. We work with a star-studded roster of players, including current Pro Bowlers like Davante Adams, to make sure your event is a success.
Simply use our online contact form to let Mark Mayfield and his staff know what you're looking for. Then, watch the magic as they find the perfect celebrity athlete for your event. Mark prides himself on finding and hiring the best football speaker for your event. So, come and join the winning team at Mayfield Sports Marketing.
Davante, we're rooting for you. Here's to a speedy recovery and a return to your winning ways!