The 2019-2020 NBA season is right around the corner. The first game of this new season tips off at 8 PM on October 22nd and features the up and coming New Orleans Pelicans taking on the defending champion Toronto Raptors.

Here in Wisconsin, people are getting excited for another year of Milwaukee Bucks basketball. After all, who wouldn't enjoy watching the reigning NBA MVP, Giannis Antetokounmpo, the "Greek Freak", as he pushes the Bucks towards a spot in the Finals?
The Bucks Season in Review
If you're a professional basketball fan, even if you're not a fan of the Bucks, you have to give respect to the tremendous season they had in 2018-2019. The Bucks finished with a 60-22 record, by far the best record since the early 80s for this franchise.

It was the best record in the entire NBA and only the second time in franchise history they accomplished that feat. The Bucks had not had home-court advantage in a playoff series since 2001 and took advantage, beating Detroit in their first-round series. After beating the Boston Celtics to grab a spot in the Eastern Conference finals, they fell to Toronto, who would go on to win the title.

A big part of the Bucks' success last season was the play of Giannis Antetokounmpo, nicknamed "The Greek Freak". He joins the legendary Kareem Abdul-Jabbar as the only other Milwaukee player to be named the NBA MVP. Antetokounmpo is the third youngest MVP in league history, and only the fifth player from outside the USA to win the award.

With career highs in rebounds (12.5) and assists (5.9) per game, as well as a career-high field goal percentage (.578) and points per game mark(27.7), it truly was a breakout year for this 24-year-old.
Mayfield Sports Marketing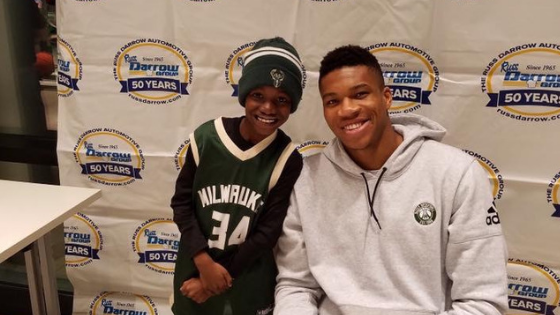 Mayfield Sports Marketing is excited about this upcoming NBA season and is looking forward to the opening tip for the Bucks as they start the season in Houston on October 24. We are proud to work with Giannis Antetokounmpo and wish him and all the Bucks a season to be proud of.

If you're interested in working with star forward Giannis Antetokounmpo at your next corporate event or fundraising opportunity, contact Mayfield Sports Marketing today using our online contact form. You can't ask for more star power than an MVP and Antetokounmpo Is sure to bring heavy interest and a high ROI to your next event.

Come join the winning Mayfield Sports Marketing team and see what a superstar NBA player like Giannis Antetokounmpo can do to help your business thrive! Good luck to the Milwaukee Bucks as they start their quest to be named NBA champs in 2020!