The Gilbert Brown tailgate party returned to Stadium View Sports Bar and Banquet Hall yesterday with Super Bowl Champion Eugene Robinson and Green Bay Packer Hall of Famer Ahman Green to get the fans ready for the Packer's game against the Denver Broncos. Rain may have moved the party inside but didn't keep the fans away from the fun with hundreds of Packer, and even a few Bronco fans stopping by to say "Hi" while grabbing an autograph and selfie of their favorite players.
Eugene Robinson
Coming to Green Bay from Seattle in 1995, Robinson recorded 55 tackles and led the Packers with eight interceptions as the team went on to become Super Bowl XXXI Champions, beating the New England Patriots, Robinson's hometown team, 35-21. In 1999 Robinson was awarded the Bart Starr Award, presented to an NFL player exemplifying outstanding leadership and character in the community, on the field, and in the home.
Ahman Green
The Packer's all-time leading rusher, Ahman Green played 8 of his 12 NFL seasons with the Green Bay Packers before retiring as one in 2009. During his tenure with Green Bay, he made four trips to the Pro Bowl (2001-2004) and was the NFC Offensive Player of the Year (2003). Green was inducted into the Green Bay Packers Football Hall of Fame on July 19, 2014.
Stadium View Sports Bar and Banquet Hall
Few establishments as large as Stadium View have remained in a single family for as long as they have, entering their 27th Packer season as the favorite local "Mom & Pop" sports bar to meet up with friends and catch the game. Mayfield Sports Marketing and Gilbert Brown were honored when second-generation owners Bob and Amanda Watson approached them about teaming up to host the Exclusive Gilbert "The Gravedigger" Brown Tailgate Party before each Packer home game. With a full staff that is second to none when it comes to cold drinks, delicious food, and fun there is no better place to start the game day experience than at Stadium View Sports Bar and Banquet Hall.
Mayfield Sports Marketing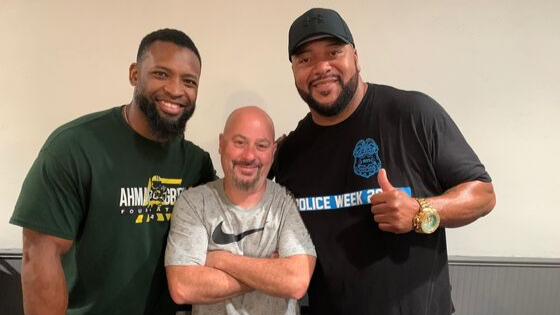 Mayfield Sports Marketing is a leading speakers bureau and sports marketing agency helping large and small companies book celebrity athletes for speaking events, athlete appearances, and autograph sessions. Interested in bringing Gilbert Brown, Eugene Robinson, Ahman Green, or another celebrity athlete to your next event? Contact The Mayfield Sports Marketing team at 262-366-8188 or by completing our online form requesting a quote.