There's a reason why major corporations see sports marketing as a valuable investment. Whether it's Packers legend Brett Favre in a pair of Wrangler jeans or Brewers All-Star Christian Yelich promoting Sargento cheese and Louisville Slugger bats, both the athletes and the companies are benefiting from the exposure.

The truth is that sports marketing is growing every year in revenue as more and more businesses and nonprofits see a way to not only improve their brand identity but also their brand equity.

It's not just endorsements, either. Having a celebrity athlete make an appearance at your next event or be the speaker at your next fundraiser is a cost-effective way to draw attention and make a connection between your business and a winner!
Brand Identity and Awareness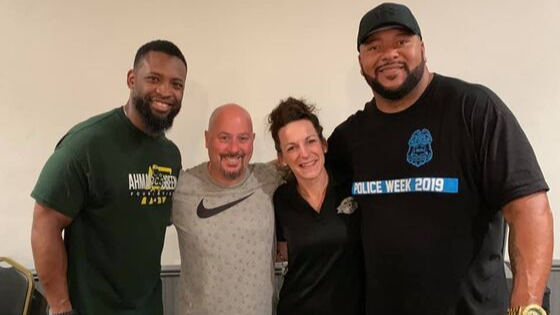 The athlete you choose to represent your business reflects the values your business has. For example, as the Gravedigger, Packer Hall of Famer Gilbert Brown was a dominant defensive player but is also well known for his charity work off the field. When Brown comes to an event or endorses a product, it reflects strength, a winning attitude, and a caring spirit.

When you match your brand identity with an athlete whose image reflects many of those same elements, you've got a winning combination. You've created a 1-2 punch that will resonate with consumers and donors who share similar values.

The more you can grow your brand identity and awareness among consumers, the more your business or nonprofit will see repeat customers and increased revenue. You're creating a connection -- one that customers and donors will remember and reward.

Sure, you can open a new location or hold a fundraising dinner without the help of an athlete. But, imagine seeing Packers legend Jerry Kramer or current New Orleans Saint star Alvin Kamara in person at an event. Immediately, there's more excitement, and your event just turned into something truly special.
Mayfield Sports
Mayfield Sports Marketing has earned a solid reputation as one of the leaders in nationwide sports marketing. Mark Mayfield and his staff have cultivated relationships with athletes across the sports world (NFL, NBA, MLB, and others). Mark is the expert at helping you figure out what athlete is the best fit for your brand identity.

Your first step is easy: simply use our convenient online contact form to let us know what you're interested in and to tell us more about your brand. Join a winning team and start seeing how partnering with an athlete can boost your business or nonprofit.