As the Green Bay Packers continue to prepare for the 2019 season under new head coach Matt LaFleur, questions abound as to who is going to be the star piece for the offense. According to many pundits, sixth-year wide receiver Davante Adams may be looking at fulfilling that role.
When future Hall of Fame quarterback Aaron Rodgers says, "Davante can play anywhere. I mean, he's an incredible talent and a great receiver", that is high praise indeed considering the source.
A Standout Season in 2018
Davante Adams had an outstanding season in 2018, marking his name in the record books in many different ways:
13 touchdowns (tied for seventh all-time in Packers history)
1,386 yards (sixth all-time in Packers history)
111 receptions (1 yard short of a tie with Sterling Sharpe for best in franchise history)
Was second in the NFL in touchdown receptions
Tied for sixth in the NFL in overall receptions
Tied for seventh in the NFL for receiving yardage
Consider this: Adams led the Packers with 111 receptions. The #2 pass catcher last year, Jimmy Graham, had 55 receptions. That is an incredible difference and actually ranks as the largest in Green Bay Packers history.
The 2019 Season Looks Bright
Adams is young. At 26 years old, there's still a lot of tread on those tires. He plans to take advantage of it this season and establish himself as the premier wide receiver in the game.
The goal for 2019 is to produce a balanced run and catch game. With his extensive knowledge of routes and his foot speed and agility, all signs point to Adams having a beast of a year and exciting the Lambeau Field faithful in a quest for the playoffs.
Mayfield Sports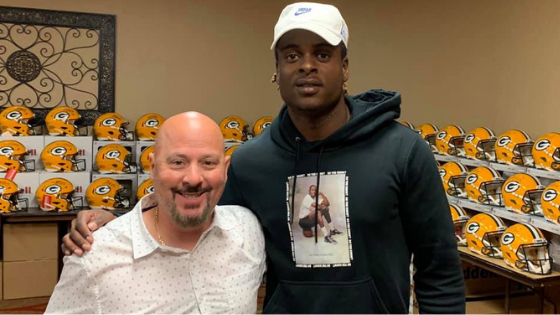 We have worked Davante Adams since he was a rookie. Whether it's an endorsement opportunity or a chance to make an event sparkle with a star power appearance, the athletes of Mayfield Sports Marketing bring unparalleled excitement to any event.
Mayfield Sports Marketing works with professional athletes, agents, marketing agents across the country. If you'd like to arrange an athlete appearance, endorsement, or motivational speaking event, contact Mayfield Sports Marketing at 262-366-8188 or use our convenient online contact form.