For many years, "Clubhouse Live" has been hosted by numerous Green Bay Packers stars and alumni. This season, The Clubhouse Kitchen and Bar inside the Hilton Appleton Paper Valley Hotel once again welcomes the weekly show. This season, Packers All-Pro linebacker De'Vondre Campbell and second-year wide receiver Amari Rodgers will co-host the show.
The previous host of "Clubhouse Live" was Ahman Green, who appeared on the show on September 5 to get the audience amped up for the Packers-Vikings game.
Highlights From This Week's "Clubhouse Live"
During the show, Brett Christopherson asked the two Packers players if they had any message for Ricardo. Ricardo is a producer of the show and a Chicago Bears fan. To answer this question, De'Vondre Campbell said, "Sit back and enjoy the show." Amari Rodgers responded, "I say, 'Ditto.'" 
Campbell and Rodgers also spent some time recapping the Packers' loss to the Minnesota Vikings. Campbell was quick to "tip the cap" to Minnesota and said that "they made plays that we didn't." He also named the date of the next Packers-Vikings matchup, Jan. 1, 2023.
One interesting segment towards the end of "Clubhouse Live" was where the two Packers players answered the question, "What do you do before the game on game days?" De'Vondre Campbell stated that he sleeps all day, even though his wife isn't necessarily OK with it. "She understands, though," he joked. "After seven years, we have an understanding." He explained that he used to sit around, waiting for late games, so sleep is how he passes the time.
On the other hand, Amari Rodgers is a little more active. This makes sense as he has a baby boy who was also present at the show. "I take a nap for sure, but I also try to spend some time with family, and really treat it like any other day." He explained that he does not like to "make the moment bigger than it is." So acting like it's a normal day helps him to keep himself calm.
Mayfield Sports Marketing is an official partner of "Clubhouse Live." The show is hosted on Mondays during the season.

Amari Rodgers & De'Vondre Campbell Booking Agent Contact Information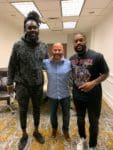 Call Mayfield Sports Marketing (MSM) at 262-366-8188 to schedule Amari Rodgers and/or De'Vondre Campbell for your corporate appearance or product promotion.
MSM will work on your behalf to get you the best price for your desired event, autograph session or social media campaign with Amari Rodgers and/or De'Vondre Campbel.
Mayfield Sports Marketing has certainly earned a reputation of being the one to call for booking top athletes to speak at events and trade shows. To learn more about Amari Rodgers' and/or De'Vondre Campbel's appearance cost and booking fee, please call us today.
** Disclaimer**
Mayfield Sports Marketing is not affiliated with the Green Bay Packers or any other professional sports organization. Mayfield Sports Marketing (MSM) acts as an athlete broker for corporate functions, private events, and speaking engagements. MSM does not claim or represent itself as any player's agent, speakers bureau, manager, publicist, assistant, PR firm, or management company. MSM is a marketing and booking agency representing organizations seeking to hire speakers, athletes, celebrities, and entertainment for corporate events, endorsements, athlete appearances, spokesperson campaigns, and speaking events.