Mayfield Sports, Packer legends and Super Bowl Champions filled the third floor of Wandos in Madison, Wisconsin Thursday, May 30, 2019, for an autograph session to help raise funds for Tellurian, a local organization providing a secure and safe place for individuals in the recovery process from drugs and alcohol.
The group of ten Packer Legends including Ahman Green, Gilbert Brown, LeRoy Butler, Santana Dotson, Antonio Freeman, Bernado Harris, Earl Dotson, Eugene Robinson, Kevin Barry, and William Henderson participated in the 22nd Annual Tellurian Celebrity Golf Tournament at The Legend of Bergamont before packing the third floor of Wando's for and evening of autograph signing, eating, and fun.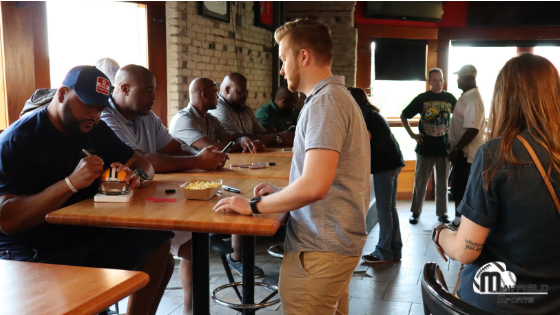 "Working with all the guys for a such a great cause is always a great time. Hearing Packer stories and watching the fans get an autograph or photo with their favorite player/s is always a great time."
Fans had the unique opportunity to meet, take photos and get autographs from eight Super Bowl Champions (Freeman, Harris, E Dotson, Robinson, Brown, Butler, S. Dotson, and Henderson), five Pro-Bowlers (Green, Freeman, Robinson, Butler, and Henderson) and five Green Bay Hall of Famers (Brown,Green, Freeman, Butler, Henderson) all in the same room.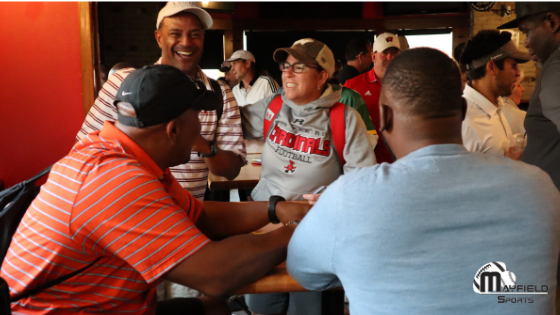 About Mayfield Sport
Mayfield Sports is a local sports marketing company specializing in pairing businesses, organizations, foundations, and schools with celebrity athletes for motivational speaking, autograph session, athlete appearances, and endorsement deals. Mark and his team work with each client to find the right player to meet their individual needs of raising awareness, funds, attendance, and more.