Mayfield Sports Marketing Proud to Work With Cousins Subs to Host the Vince Lombardi Cancer Foundation Punt Pass Kick Competition
The Vince Lombardi Cancer Foundation (VLCF) Punt Pass Kick Competition benefiting the Starr Children's Fund was held on August 25, 2019, in the Fox Valley, Madison, and Milwaukee areas. A fundraiser supporting pediatric cancer research and care, the Punt Pass Kick Competition challenges girls and boys between the ages of 6-13 to participate in the ultimate football challenge for a chance to win medals, Cousins Subs gift cards, autographed sports memorabilia, and more while helping other children battling cancer. 

Three stadiums hosted this year's Punt Pass Kick Competition including Rocket Stadium at Neenah High School, Mansfield Stadium at James Madison Memorial High School, and Raabe Stadium at Wisconsin Lutheran College Athletic Field.
Packer Greats Attend Local Competitions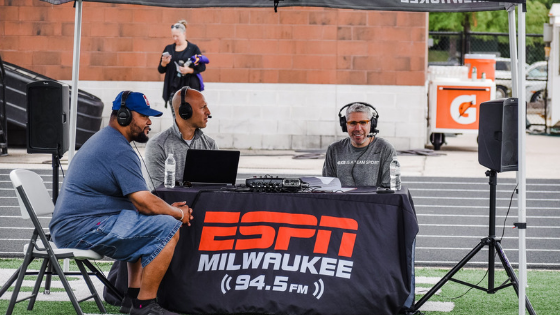 Mayfield Sports Marketing worked with the Vince Lombardi Cancer Foundation and Cousins Subs to have fan favorites Gilbert Brown and Jarred Abbrederis at two of the competition locations. Super Bowl Champion and Packer Legend Gilbert Brown greeted participants at Raabe Stadium while former Wisconsin Badger and Green Bay Packer Jared Abbrederis met with athletes and their families in Neenah at Rocket Stadium.
About the Vince Lombardi Cancer Foundation
Established in 1971, the foundation embodies the commitment to excellence, enthusiasm, and spirit of former Green Bay Packers coach Vince Lombardi. The foundation works to raise funds for compassionate care and advancements in cancer research in coach Lombardi's honor who on September 3, 1970, lost his own battle to colon cancer. Visit the VLCF website to buy tickets, sponsor, or donate to an event.
About Starr Children's Fund
Bart and Cherry Starr introduced the Starr Children's Fund in 2017 with a clear vision in mind, to see children cancer free so everyone's future benefits. The Starr Children's Fund is committed to raising funds in order to support and advance pediatric cancer treatments and research.
About Mayfield Sports Marketing
A leading Wisconsin speaker bureau and sports marketing agency, Mayfield Sports has helped many companies throughout Wisconsin and the Midwest. Specializing in helping businesses of all sizes book celebrity speakers and athlete appearances for corporate events, Mayfield Sports Marketing has created a large network of athletes, agents, public relations companies and talent managers that allow them to find an athlete for any event and within most budgets. Looking for a celebrity athlete for your next event? Complete our online form or contact Mark today at 262-366-8188