Mayfield Sports and Green Bay Packer Aaron Jones were on hand the evening of Saturday, June 1, 2019, as the Green Bay Booyah hosted their home opener against the Wisconsin Rapids Rafters at Capital Credit Union Park with Booyah mascot, Rocky Bal-Booyah surprising fans with a helicopter entrance prior to the Booyah taking the field.

Jones, wearing a personalized #33 Booyah jersey was around before the game to meet, sign commemorative autographs, and take photos with fans before throwing out the first pitch of the game.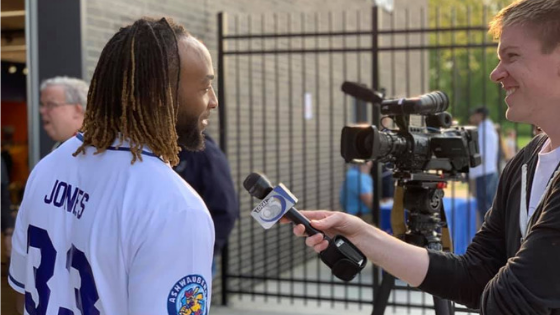 "I'm here to throw out the first pitch and meet some fans," Jones said. "It's pretty amazing and it's an honor as well to have me throwing out the first pitch this season opener, so I mean it's a blessing, and I'm excited and honored they would choose me."
Returning for his third year with the Green Bay Packers, Aaron spent most of the offseason trimming weight, adding muscle and getting ready for the 2019 season. A dynamic runner, Jones is anticipated to be a favorite with new Packer coach Matt LeFleur's outside zone running scheme.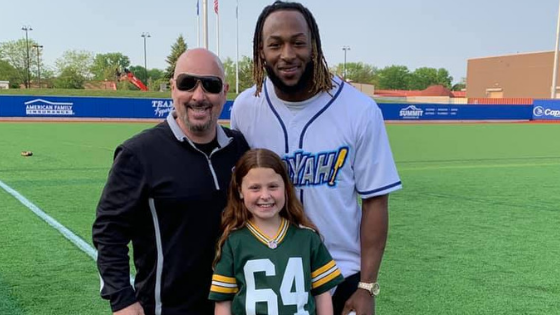 "Aaron is so genuine and really enjoys spending time in the community and with fans. Meeting new fans as well as seasoned fans, Aaron is always smiling and so polite. I really enjoy working with him and look forward to a huge jump for the 2019 season on the field."

Contact Mayfield Sports today to schedule an appearance or autograph session with a current Green Bay Packer player such as Jones or a Packer Legend of the past including Gilbert Brown, Santana Dotson, and Ahman Green.