Already having a stellar night against the Titans, Davante Adams celebrated his second of three touchdowns with his teammates in an unusual way, an impromptu coronation. Allen Lazard took a plastic crown that he had procured and placed it upon the head of the seated Adams. A gesture that was befitting for the king of wide receivers.  
King of Wide Receivers
Over the last four seasons, no NFL player has more receiving touchdowns than Davante Adams. He has arguably the best separation of any current wideout with shifty footwork and quick releases. To complement that, Adams has shown he can make tough catches with tight coverage even deep down the field. With 109 receptions and 17 touchdowns as of this writing, he's only the third ever to surpass 100 catches and 16 touchdown receptions in a single season. He currently sits fourth in the league in receiving yards, third in receptions, first in yards per game, and first in receiving touchdowns.  
And he did all of this even after missing nearly three full games this season. Another accomplishment amongst the many is Adams being selected to his fourth straight pro bowl. The Packers possess a talented array of other receivers but none that stand out like Adams does. The defense knows that Davante is where the ball is going most of the time, but yet most are powerless to stop it. 
Rewriting Packers Record Books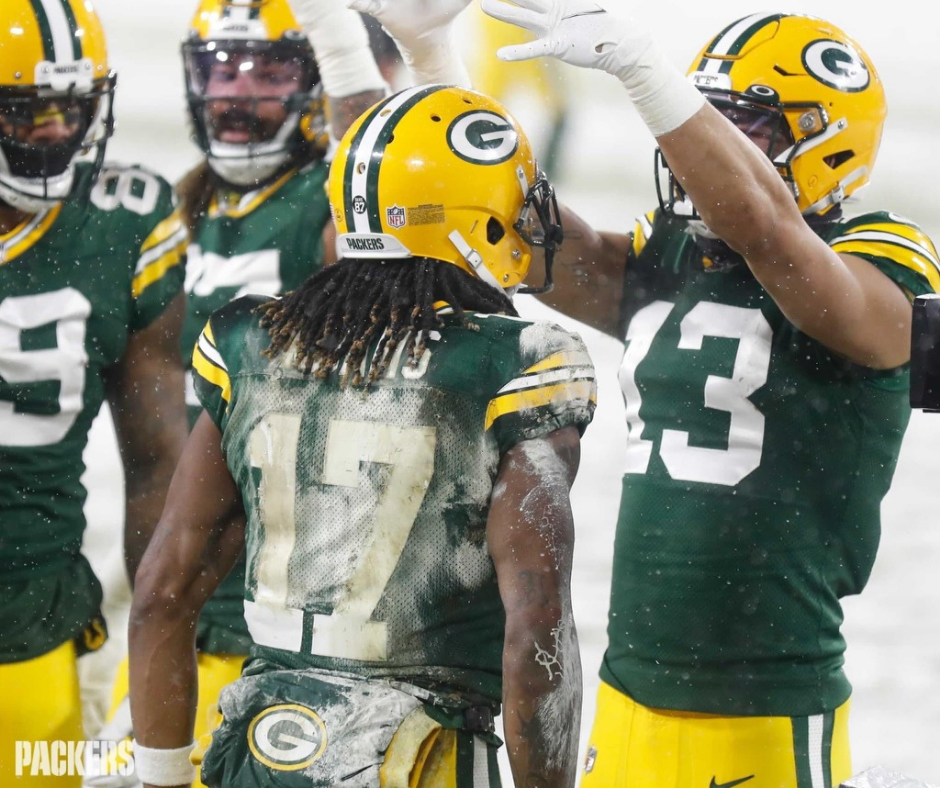 Photo Credit: Green Bay Packers
Adams and Aaron Rodgers have been at this for a while. They are the best QB/WR tandem in Packers history after passing Brett Favre and Donald Driver for the most pass receptions. Adams is in reach of completely resetting the Packers' receiving records. With one game left in the 2020 season, he has 109 receptions, 1328 receiving yards, and 17 receiving touchdowns.  
The team records are 112 receptions by Sterling Sharpe in 1993, 1519 receiving yards set by Jordy Nelson in 2014, and 18 receiving touchdowns achieved by Sterling Sharpe in 1994. In one season, Adams could potentially break all three records.  Oh, and did we mention he missed nearly three entire games? And yet Adams could rewrite the receiver record books for the most storied franchise in NFL history.    
Jordan Brand Member
Early this year, Adams signed an official endorsement deal with the Jordan Brand. When Adams was asked for his feelings about joining the brand, he had this to say: "Pure excitement, man. It was a long time coming. It's something that I've always dreamt about, especially with how exclusive it is. It's the number one shoe brand I've been attracted to my whole life. My cousin worked at Foot Locker, and I could never get Jordans until we got his discount."  
On that note, a young Davante (whose birthday falls on Christmas Eve) got one Air Jordan for his tenth birthday.  The other naturally showed up on Christmas morning. "I was young, so it wasn't that funny to me then," the Green Bay Packers all-world receiver said. Presumably, just so thrilled to have a pair of Air Jordans of his own that one shoe per holiday was just fine by him. And what does the newest team member of the Jordan Brand do for his entire team on Christmas?  Well, he supplies them with all-new Air Jordans, of course!  
With only one game left as of this writing, Davante Adams is definitely the player to watch in the final week of regular season football. Will he break even more records this Sunday against the Bears? We know that we're rooting for the king of wide receivers!
Mayfield Sports Marketing is a leading sports marketing agency and speaker bureau. Whether your company is small or large, our team can search our network of current and retired celebrity athletes available based on appearance fees, team, location, or sport. With access to hundreds of athletes available for corporate appearances, keynote or motivational speeches, and product endorsements, we work within your budget to match your goals with an athlete's appearance.
By working with the player directly, player agent, marketing agency, and more, Mayfield Sports Marketing has negotiated deals for numerous current and retired sports figures for speaking engagements, VIP Meet & Greets, autograph signings, product endorsement deals, and media opportunities.
Disclaimer:
Mayfield Sports Marketing acts only as an athlete broker for corporate events, private events, and speaking engagements. Mayfield Sports Marketing does not claim or represent itself as the athlete's agent, speakers bureau, manager, publicist, assistant, PR firm, or management company. Mayfield Sports Marketing is a full-service player and athlete booking agency representing organizations and groups seeking to hire athletes for motivational speakers, athletes for private corporate events, athlete endorsements, personal athlete appearances, spokesperson campaigns, and autograph sessions.