Kenny Clark has become a fan favorite in Green Bay during his time with the Packers. Green Bay selected Clark with the 27th pick in the 2016 NFL Draft. In 2020, Clark signed a four-year $70 million deal with the Green Bay Packers. That deal will keep him in Green Bay through the 2024 season.
Flash forward to 2022, and he started in every one of the 17 games he played. The two-time Pro Bowler earned 53 total tackles, 27 solo tackles, 10 quarterback hits, five tackles for loss and one forced fumble last season.  In early March, the Packers restructured the defensive lineman's contract. According to Field Yates of ESPN, that restructure created a little over $11 million in salary cap space.
Recently, Kenny Clark made appearances at local schools in the state of Wisconsin that left a lasting impact.
Kenny Clark Partnered With the Indian-Head Community Outreach Group To Tour Local Schools in Wisconsin
Kenny Clark, along with Mark Mayfield, surprised four middle schools and high schools in one day in Northwest Wisconsin. Those schools included Abbotsford, Medford, Flambeau and Ladysmith.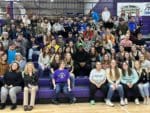 "I received a warm welcome and introduction at each school," Mark Mayfield said.  "Little did the students know that an All-Pro nose tackle from the Green Bay Packers was going to join me for a short discussion."
"It was a special experience," Mayfield said. "At each location, I would read off Kenny's bio, highlighting where he's from, where he went to school and being a two-time, All-Pro, with the transition into a lightning round with questions about his favorite food, vacation, destinations, other sports he played at high school, funniest, teammate music and the actual phone call on Draft day when he was elected by the Green Bay Packers in the first round."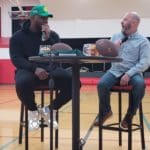 Additional things that were discussed were Kenny Clark's nutrition and off-field exercises. In recent years it has changed in some ways that started to include pilates and yoga.
"We would then finish our time with the students with a question-and-answer session," Mayfield said. "Students could ask questions about his teammates, goals, mentors, and his future. One of my favorite things about this community outreach program was Kenny answered it all for schools, saying 'I just want to be the best me that I can be.'"

Green Bay Packers Kenny Clark Booking Agent Contact Information
Call Mayfield Sports Marketing (MSM) at 262-366-8188 to schedule Packers Kenny Clark for your corporate appearance or product promotion. As a result, MSM will work on your behalf to get you the best price for your desired event, autograph session, or social media campaign with Saints Jamaal Williams.
MSM has certainly earned a reputation of being the one to call for booking top athletes for events and shows. To learn more about Jamaal Williams's appearance cost and booking fee, please call us today.
** Disclaimer**
Mayfield Sports Marketing is not affiliated with the New Orleans Saints, Detroit Lions, Green Bay Packers, or any other professional sports organization. Mayfield Sports Marketing (MSM) therefore acts as an athlete broker for corporate functions, private events, and speaking engagements. MSM doesn't claim or represent itself as any player's agent, speakers bureau, manager, publicist, assistant, PR firm, or management company. MSM is a marketing and booking agency representing organizations seeking to hire speakers, athletes, celebrities, and entertainment for corporate events, endorsements, athlete appearances, spokesperson campaigns, and speaking events.