Los Angeles Chargers running back Melvin Gordon is returning to the Chargers Thursday, September, 26. As one of the best running backs in the NFL today, Gordon is sure to quickly get back into playing mode and resume making life difficult for teams in the AFC WEST
During the 2018 season, Gordon achieved a career-high 5.1 yards per carry and scored 14 touchdowns while accumulating 885 total rushing yards. The Bolts finished with an impressive 12-4 record, beating Baltimore in the wild card playoff round before losing to the eventual Super Bowl champion Patriots. Gordon has made a significant difference to the Chargers offense since being drafted in 2015.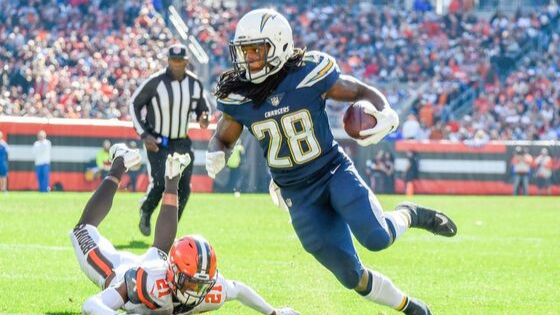 In each of the last three seasons, Melvin Gordon has led the Los Angeles Chargers in rushing averaging 996 rushing yards and 9.3 rushing touchdowns per season. The NFL has noticed, making Gordon a two-time Pro Bowl player.
A native son of Wisconsin, Melvin Gordon thrilled crowds at Camp Randall Stadium as he led the Badgers to two Big 10 championships. The 2014 season marked Gordon as the best running back in the nation as he won the Doak Walker award as well as a second-place finish in the Heisman Trophy voting. He was selected by the San Diego Chargers with the 15th overall pick in the 2015 NFL draft.
Mayfield Sports Marketing
Mayfield Sports Marketing is proud to be Melvin's Exclusive Memorabilia Company along with Radtke Sports. If your company seeks an athlete appearance, endorsement or motivational speaking for an athlete like Melvin Gordon, we've got you covered with an extensive selection of athletes, both current and former, who can add pizazz and excitement to any occasion.
Contact Mayfield Sports Marketing today and be a part of the winning team! 262.366.8188