One of the most scrutinized positions for the Green Bay Packers going into the 2019 season will be the running back spot, and Aaron Jones is prepared to dazzle the Cheeseheads with the explosive playmaking that marked his 2018 campaign.
Heading into his third year, it is a fairly safe bet that if Jones can avoid some of the injury issues that have come up his first two seasons, he is due to stand tall as one of the best running backs in the NFL this season.
A Stellar 2018 Season For Aaron Jones
Jones had a breakthrough year last season. After missing three games in 2017 thanks to a knee injury and missing two preseason games in 2018 with a hamstring injury, there were concerns that perhaps Jones was not able to handle the rigors of an NFL season.
Those concerns got completely brushed aside as Jones proved to be a weapon for the Green Bay offense. In the running game, Jones rushed for 728 yards (a team high) and scored 8 touchdowns. In the passing game, Jones caught 26 passes and scored a receiving touchdown.
The expectation amongst fans and coaching staff alike is that this is the season that Jones takes his place among the elite running backs in the NFL.
High Expectations For the 2019 Season
With new coach Matt LaFleur taking the reins at Lambeau Field, there will be a stronger emphasis on the running game. In previous stops in Los Angeles and Tennessee, LaFleur has proven he likes a balanced offense with a strong running game. This means a more intense workload for Aaron Jones.
In response to the challenge from the new coaching staff, Jones has spent the offseason working on his lower body strength and dropping his body fat percentage from 11% to 5.3% in the offseason. With a weapon like Jones in the arsenal, don't be surprised to see the Packers offense rank in the Top 10 in rushing yardage this season.
Mayfield Sports Marketing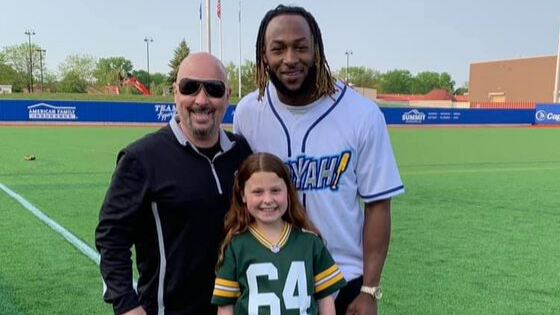 Mayfield Sports is proud to work with Aaron Jones to provide endorsement and appearance opportunities in Wisconsin. Athletes like Aaron help promote a positive brand identity and can turn an ordinary event into a memorable one with a higher ROI. If you'd like to partner with the Mayfield Sports team to help your business, contact us today using our online form.