Gilbert Brown and Antonio Freeman, who were both on the Super Bowl XXXI Green Bay Packers team, continued the tradition of the Gilbert Brown Tailgate Party at Stadium View Bar and Grill before every Packers home game. Despite the Packers' loss to the Jets, fans were thrilled to meet up with two of their favorite former players.
Antonio Freeman made the trip in for the game from his home in Fort Lauderdale, Florida. When asked why he keeps coming back to Green Bay, Freeman said: 
"You know, you always want to be where you're remembered. When I'm at home, I'm just the guy that takes out his garbage. But here, I am a legend. People remember what I did, what we as a team did. I am thankful for the fans and their amazing support."
Mayfield Sports Marketing has partnered with Antonio Freeman numerous times over the years, and always enjoys working with the former Packers' receiver.
"I've been working with Mark for, oh wow, almost 10 years – since 2012 I think," he said. "He always puts together great events, good to see the guys again, and interact with the fans."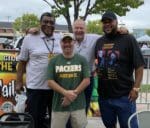 Mayfield Sports Marketing is proud to have been bringing the Gilbert Brown Tailgate Party to Stadium for some years now. Of course, Brown hosts the party. Yet, fellow Packers alumni often join him. Previous guests of the Gilbert Brown Tailgate Party before Antonio Freeman include Ahman Green, Dorsey Levens, Jerry Kramer, Santana Dotson, and many more legends.
"Gilbert Brown and his team from Mayfield Sports Marketing are here for every home game making Stadium view one of the best spots to tailgate in town," Amber Stadium View Manager said. "They pump up the crowd and make it a special experience by talking directly to the fans! Great to work with them for legends autograph events and more. We love having Gilbert and 'friends' here!"

Packers Gilbert Brown & Antonio Freeman Booking Agent Contact Information
Call Mayfield Sports Marketing (MSM) at 262-366-8188 to schedule Packers legends Gilbert Brown and/or Antonio Freeman for your corporate or corporate appearance or product social media promotion. As a result, MSM will work on your behalf as their booking agent and get you the best price for your desired event, autograph session or social media campaign with Gilbert Brown and/or Antonio Freeman.
MSM has certainly earned a reputation of being the one to call for booking top athletes for events and shows. To learn more about Gilbert Brown and/or Antonio Freeman's appearance cost and booking fee, please call us today.
** Disclaimer**
Mayfield Sports Marketing is not affiliated with the Green Bay Packers or any other professional sports organization. Mayfield Sports Marketing (MSM) therefore acts as an athlete broker for corporate functions, private events, and speaking engagements. MSM doesn't claim or represent itself as any player's agent, speakers bureau, manager, publicist, assistant, PR firm, or management company. MSM is a marketing and booking agency representing organizations seeking to hire speakers, athletes, celebrities, and entertainment for corporate events, endorsements, athlete appearances, spokesperson campaigns, and speaking events.