Years ago, The Discovery Channel aired a television series entitled Dirty Jobs with Mike Rowe. The series, which ran from 2005-2012, documented some of the dirtiest and unappreciated jobs in America. The idea of the show, beyond entertainment, was to make people more appreciative of the men and women who go unnoticed, yet fulfill such vital roles in society. On the Green Bay Packers football team, there is a man who does their "dirty work" on the field: Allen Lazard.
The Green Bay Packers' offense has a plethora of stars. Aaron Rodgers is a three-time MVP and future Hall of Famer. Davante Adams is an All-Pro wide receiver who has also made four consecutive Pro Bowls. Aaron Jones,  is a Pro Bowl running back. Both players have done past appearances and autograph sessions with Mayfield Sports Marketing.  However the time is now and it is the "under-the-radar" work of Allen Lazard that makes much of their success possible.
One of the most unappreciated and overlooked jobs of wide receivers, especially in the Packers' offense, is blocking. In this aspect, there are few better than Allen Lazard. Indeed, Lazard is one of the best blocking wide receivers in the entire NFL. On Sunday, teams recognized National Tight End Day. In his postgame press conference, Lazard joked that he felt that he deserved an honorable mention on that day based on the tight end-like work that he does.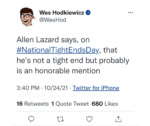 In addition to this, Lazard opened up about how grateful he is to the Packers, especially head coach Matt LaFleur, who affectionately refers to Lazard as "Goon."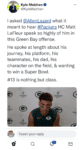 Allen Lazard's Career
Allen Lazard was not drafted by the Green Bay Packers. In fact, he was not drafted by any NFL team. Despite participating in the 2018 Senior Bowl, Lazard did not get any phone calls during the NFL Draft's three day event. According to some scouts, teams were concerned about an apparent lack of speed from him.
The Green Bay Packers, though, signed him as an undrafted free agent. Lazard appeared in one game, for one snap, that season. He caught a pass for seven yards. The next year, 2019, Lazard proved to be a reliable player in the Packers' offense. In addition to blocking in the run and short-pass games, Lazard caught 35 passes for 477 yards (still his career high) and three touchdowns. In addition, Lazard provided solid play on special teams, though he only played in 39% of snaps for that unit.
In 2020, with Davante Adams out, Lazard had the best game of his career against the New Orleans Saints. Lazard hauled in six receptions for 146 yards and a touchdown. Unfortunately, he suffered a core injury that required surgery and forced him to miss weeks of the season. He finished last season with 33 receptions, 451 yards, and three touchdowns in just 10 games.
Allen Lazard in 2021
This season, many fans have been focussed on the bigger names in the Packers' offense. Additionally, Allen Lazard did not appear to be getting much attention in the passing game. However, he has been a mainstay on the field. As mentioned previously, Lazard has played a major role in blocking for his teammates, freeing them for big plays down the field.
So far this season, Lazard has 15 receptions for 184 yards and two touchdowns. He has caught a touchdown pass in each of the Packers' last two games (versus the Bears and Washington).
Recently, it was reported that the Packers had to place Davante Adams on the Reserve/COVID-19 list. With Marquez Valdes-Scantling still questionable with an injury, it stands to reason that it will be Lazard who will be called upon to be the Packers "wide receiver one."
As he showed in the New Orleans Saints game last season, Lazard is completely capable of putting the team on his back and carrying the load. However, as Lazard himself is quick to point out, football is a team game. The Packers will need the combined efforts of all their players to knock off the NFL's best team (Arizona is 7-0). When the Green Bay Packers last won the Super Bowl in 2010, they had over 20 players on injured reserve. The "next man up" mentality became their mantra, and this year's team has a similar attitude. Thanks in part to Allen Lazard and his willingness to do the dirty jobs, this could very well be the year the Packers finally break through and bring the Lombardi Trophy home where it belongs.
Allen Lazard  Booking Agent Contact Information
Call Mayfield Sports Marketing at 262-366-8188 to schedule Allen Lazard for your corporate appearance or product promotion. Already a host of Clubhouse Live and aspiring entrepreneur with his own ATT brand clothing, Allen Lazard can be contracted by booking agent, Mayfield Sports Marketing. MSM will work on your behalf to get you the best price for your desired event, autograph session or social media campaign with Allen.
Mayfield Sports Marketing has earned a reputation of being the one to call for booking top athletes to speak at events and trade shows. To learn more about Allen Lazard appearance cost and booking fee, please call us today.