Mayfield Sports Marketing partnered with the Kenosha Kingfish on a very successful celebrity softball game to benefit The Boys and Girls Club. Current Green Bay Packers players AJ Dillon and Jordan Love attended and took pictures with fans. In addition, Packers alumni Gilbert Brown, Dorsey Levens, Ahman Green, Eugene Robinson, and George Teague were also participants in the game. They also signed autographs and took pictures with fans before the game.
The event drew a large crowd to Historic Simmons Field, home of the Kenosha Kingfish of the Northwoods League. Fans gathered to wait in line for autographs as early as two hours before the event began. A 50/50 raffle was held to benefit The Boys and Girls Club.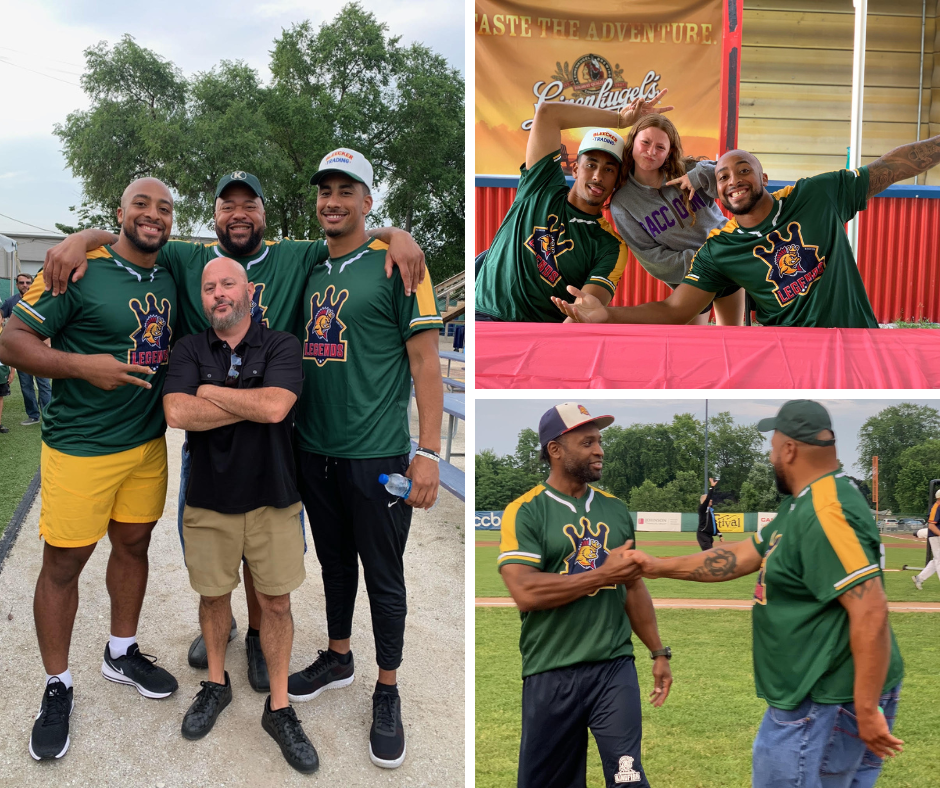 Of course, this event made national headlines due to AJ Dillon trucking over Elvis, the Kenosha Kingfish mascot. In a now viral video, Dillon and Elvis participated in a drill known as Oklahoma. The two participants start out lying flat on their backs. When the whistle blows, they get up and run towards each other. Dillon hit Elvis so hard that the mascot's head flew off.
Call Mayfield Sports Marketing at 262-366-8188 to schedule a celebrity athlete for your corporate appearance or product promotion.  Our booking agents will work on your behalf to get you the best price for your desired sports speaker. Mayfield Sports Marketing has earned a reputation of being the one to call for booking top athletes to speak at events and trade shows. To learn more about appearance cost and booking fee, please call us today. www.MayfieldSports.com.
Elvis vs. @ajdillon7 ended as expected… 😳 @MiLBPromos @SportsCenter @espn @barstoolsports @packers pic.twitter.com/Z6WxYtddZS

— Kenosha Kingfish (@KenoshaKingfish) July 17, 2022
In a comical follow-up Tweet, the account for Elvis on Twitter said: "I can report that I cam alive."