Earlier this month, the United States lost one of its finest soldiers and statesmen: Colin Powell. While General Powell's expertise was in politics, his wisdom can be applied to the fields and courts on which sports are played. Powell was once quoted as saying, "The best method of overcoming obstacles is the team method." Indeed, the Green Bay Packers have seen their fair share of obstacles this season. 
Thursday night's matchup against the Arizona Cardinals was no different. In the days leading up to the game, Davante Adams and Allen Lazard were both put on the Reserve/COVID-19 List. Adams tested positive for the virus and Lazard was a close contact. Additionally, Marquez Valdes-Scantling was out with a leg injury. With their top three receivers out, as well as their top two cornerbacks, Pro Bowl left tackle, and Pro Bowl edge rusher, the team needed to come together in order to have a chance. And that they did! Aaron Jones and AJ Dillon, especially, had monstrous games for the Packers as they defeated Arizona 24-21.
The Packers' Biggest Win of the Season
After the Green Bay Packers dropped their first game of the season 38-3 against the New Orleans Saints, there were plenty of questions. Was this team good enough? Were there too many holes? Could they repeat as NFC North Division champs? Over the past seven games, all they have done is win and prove the doubters wrong. 
Entering the Thursday Night matchup, the Arizona Cardinals were 7-0. Green Bay, at 6-1, were considered underdogs for a variety of reasons. They had, after all, just played on Sunday afternoon. Their top three receivers were all out. Their top two corners were out. Very few believed they could win.
However, as Wisconsin Sports Heroics pointed out, the Cardinals' defense, which ranked fourth in the NFL entering the game, had one glaring weakness: run defense. Arizona's run defense entered the game ranked 18th in the NFL in defending the run. If there was ever a game for the backfield of Aaron Jones and AJ Dillon to take over, it was this one.
Aaron Jones' Big Night
Aaron Jones, who many believed would sign elsewhere during this past offseason, built upon his solid season with another fantastic night against the Arizona Cardinals. While multiple players stepped up in big ways, it was Aaron Jones who led all players not named Aaron Rodgers with all-purpose yards. Jones had 15 carries for 59 yards and a touchdown. Additionally, he had seven receptions for 51 yards, which led the team.
While neither stat is eye-popping in and of itself, the 110 total yards were achieved through hard work and athleticism. Viewers of the game were amazed with his play, including Seattle Seahawks quarterback, and former Wisconsin Badger, Russell Wilson.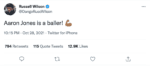 Aaron Jones Climbs Packers All-Time Rushing List
One of the things that has flown under the radar this season has been how quickly Aaron Jones is climbing up the Green Bay Packers all-time rushing list. While his 59 yards on Thursday were by no means the most he had in a game, it was enough to move him into eighth place in franchise history. With 3,827 yards, Jones just squeaked by Packers' legend Gerry Ellis, who had 3,826 rushing yards with the Packers. Next up on the list is Clarke Hinkle, who had 3,860 yards with Green Bay.
Within reach, also, is Dorsey Levens, who has partnered with Mayfield Sports Marketing in the past. Levens, who is currently sixth in Packers' history in terms of rushing yards, finished his career in the Green and Gold with 3,937 yards. If Aaron Jones keeps up his current rushing pace this season, he could also pass Ryan Grant (4,193) and Tony Canadeo (4,197) before the season ends. This would place him fourth in franchise history with three years remaining on his contract. Ahman Green is the team's all-time leading rusher with 8,322 yards. Green also has partnered with us at Mayfield Sports Marketing in the past.
AJ Dillon Led the Packers in Rushing
Aaron Jones surely had a fantastic night for the Green Bay Packers against the Arizona Cardinals. However, it was backup running back AJ Dillon who led the team in rushing. Dillon had 16 carries for 78 yards, his most in a game since his breakout game against the Tennessee Titans last season. Dillon, as always, complemented Aaron Jones perfectly. His bruising style of running made the Cardinals defense adjust away from defending the slashing, cutting style of Jones. Additionally, Dillon proved to be vital in pass protection, keeping blitzers away from Aaron Rodgers.
Perhaps, though, one of the ways in which AJ Dillon affected the game the most was on special teams. It is no secret that the Green Bay Packers struggle on kick and punt return coverage. With so many players injured, some important role players on offense and defense have had to step in on these coverages. 
Arizona has one of the best return games in the NFL, and this was certainly a concern entering the game. Thanks to AJ Dillon, though, the Cardinals did not have any big returns. Dillon made a single solo tackle on a punt return that kept Arizona from achieving great field position to start their drive.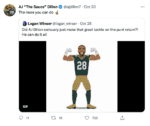 Football is a team game. When the Green Bay Packers last won the Super Bowl, they did so with over 20 players on injured reserve. This year's squad certainly reminds many of that championship team, with many players stepping in and performing better than expected. In games such as this, against the NFC's best, it is important for every guy to pick up his teammates. On this night, Aaron Jones and AJ Dillon did just that, making up for a depleted passing game with their own brand of heroics.
Mayfield Sports Marketing is a full service sports booking agency and speakers bureau. MSM can contract athletes for: events, speaking engagements, autograph sessions and social media campaigns.